I'm sad to say this next week may well be a bit slow on the outfit front. I've just finished packing all my suitcases (though still working on the boxes!) and I've only left myself about four options for the rest of the week! And sadly they're all definitely practical, and not particularly fashion orientated.
But whilst I've still got the free time to perve over clothes I'd like to buy online, I thought I'd try and concentrate more on things I'd love to buy if I weren't currently without income (but only for a little longer!).
Now I am most definitely an impulse shopper. I was bought up shopping in charity shops, car boots and jumble sales, and later on ransacking the sale racks. Both of my parents have bulging wardrobes full of bargain buys, easily disposable. I'm thankful for them passing down their thriftiness to me, definitely, but at the same time I sometimes wish I could be less impulsive and concentrate more on buying staple pieces for my wardrobe. Having spent the past week packing, and discovering that I own approximately four suitcases, one gigantic shopper bag and one overnight bag full of clothes (not counting the shoes!), and what with facing life in a small room for the next ten months, I think this will definitely be my focus.
I'm starting a new job imminently, and whilst I don't know the dress code as yet, I'm spending time thinking about appropriate tailoring and workwear, mainly because I find it so hard to find well fitting tailoring in my size that's not plain and dull. My last job was super casual, and I spent a lot of it in vintage dresses or jeans, but I quite like the idea of having a capsule wardrobe specifically for work, with a few interchangeable staples.
Here are some of my favourites:
Both from
Jane BonBon
on Etsy. Her shop is currently on vacation, so I can't recall the prices. I have actually scored the jumper dress in brown leopard print from a sample on the Fatshionista sales community, Fatshion Exchange. Even though it wasn't custom made like her etsy listings, it fits like it was! The craftswomanship is amazing, and if I had unlimited funds I'd definitely be back for the grey.
Black peg leg trousers from Very, available
here
in sizes up to 24 (in two lengths), £22. I can't count how many times I've *nearly* bought these. I'm a great fan of the peg leg, and imagine these would look equally amazing worn with a lace body and heels as they would worn with a nice blouse for a 40s/50s inspired workwear look.
Polka dot skater skirt, as featured
here
on cupcake's clothes, also on very
here
for £25 and available up to size 24. Again, fantastic worn with a nice blouse or jumper and some riding boots. Speaking of which...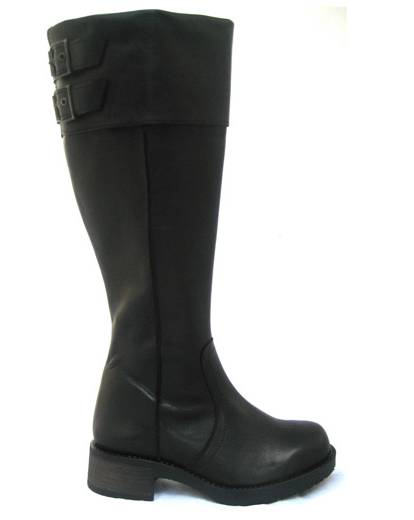 Knee boots of dreams, by Buckles and Bows, to be found
here
at Marisota. £100. Available in wide fitting too.
On a slightly cheaper front, I bought
this
blouse from ebay earlier this week. Sorry I can't seem to get hold of the image link, but it's a vintage style button up blouse, ex M&S. It cost about £14, which is steep for me, but it seems impossible to find button up shirts or blouses that actually button up to the collar! So definitely a score for me. The seller has lots more in different sizes also.
So yes, perve perve perve.