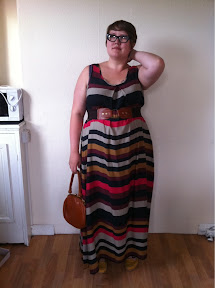 Hi everyone! Firstly, last night I got featured on a programme on bbc3 (Cherry Healey on body image) - it is available on iplayer if anyone wants to watch but missed it the first time round.
Secondly, hello to all my new followers! I'm completely overwhelmed by the response to the show, and the amount of people who identified with me. I've had a lot of emails and comments which I will get back to individually! I don't have a regular Internet connection right now, so it may be a while before I can catch up, but I will do my best. But seriously, you're all amazing and I got a little teary about it all last night. I'm going to try and put together a list of resources for fat acceptance as well, for those who've just discovered it!
And lastly, here's an outfit for you. I got my first pay cheque for my new job last week, and had a little splurge in primark to celebrate! This dress is a maxi trapeze style, and I loved how bold the stripes were. It's more expensive than primark normally is, but the quality is good. It's a size 20 but really generous (it also has lots of room in the armholes for others with big upper arms) so worth checking out if you're a larger size. I also got some loafers and more striped stuff - somewhat of an obsession beginning I fear!
I dressed it smartly for work (I work somewhere without a dress code but I liked how it worked with a blazer anyhow.
Dress, £32, primark
Blazer, £10, fatshionista sales post
Belt, Dorothy Perkins, £7
Loafers, £12, primark
I also wore my latest car boot find - a metal doggy pin! Everyone who knows me is aware of my dog-sickness, and I couldn't pass it up at £3. Look!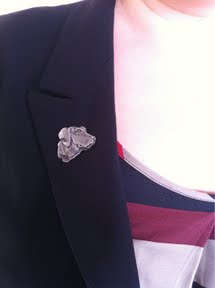 K xx